Metal Braces
Metal braces are the most common type. They are made of high-grade stainless steel. Today's metal braces are smaller, more comfortable and more attractive.
Ceramic Braces
Ceramic braces are made of translucent (clear) material. They are most popular with adult patients, due to their cosmetic appeal. The only drawbacks to ceramic brackets are that they are more fragile, and the elastic ties can discolor between orthodontic visits.
Invisalign®
The Invisalign System is a series of clear overlay templates—called aligners—that have been generated by computer simulation to gradually move the teeth. This system is available to adult patients with certain orthodontic bite problems. Ask us if you are a candidate for the Invisalign system.
Incognito™
Incognito™ invisible braces for teens and adults are the ideal solution for someone looking to straighten their smile, but are concerned about the appearance of braces. They are placed directly behind your teeth so no one will even know you are wearing braces unless you tell them. Incognito braces are the only 100% customized orthodontic braces available today made specifically for you and your smile. Contact us to see if Incognito hidden braces are right for you!
Damon
Damon braces were invented by Dr. Dwight Damon. The Damon bracket utilizes (sliding-door) technology known as "self-ligation" that allows the wire to slide back and forth within the bracket.
No elastic or steel ties are used with Damon brackets. This technology creates less friction and results in greater comfort for the patient. In addition, Damon braces often reduce both treatment time and the number of adjustments that are usually performed.
---
Retainers
Lingual Retainers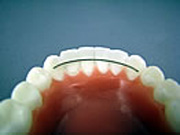 Bonded lingual retainers are cemented directly to the inside surface of your lower canines (eye teeth). This is one of the best ways to prevent your lower teeth from shifting as it is permanently attached! Patients with bonded lingual retainers must be careful with their bite as the bonding material may break due to incorrect biting and cause teeth to shift quickly. As with removable retainers, it is important to keep them clean. When brushing, make sure to carefully clean the inside of your lower teeth as well as the wire.
Hawley Retainers
The Hawley retainer, one of the most common types, is a removable retainer made of a combination of metal wires and sturdy acrylic, and is designed to keep your teeth in place. This retainer is specially made from impressions of your teeth so that it fits snugly and comfortably in the roof of your mouth, while any wire or acrylic framing keeps your teeth in perfect position. The acrylic can also be personalized with a large number of colors and/or patterns.
Essix Retainers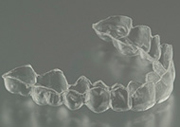 The Essix retainer is a transparent removable retainer that fits over the entire arch of teeth. Similar to Invisalign® trays, Essix retainers have no wires. They are inexpensive and easier to wear. They can be used for other treatments as well, including tooth movement and bridges.
---
Appliances
Rapid Palatal Expander
Attached to the upper molars through bonding or by cemented bands, the Rapid Palatal Expander is an orthodontic device used to create a wider space in the upper jaw. It is typically used when the upper jaw is too narrow for the lower jaw or when the upper teeth are crowded or blocked out of the dental arch.
When patients are still growing, their connective tissue between the left and right halves of their upper jaw is very responsive to expansion. By simply activating the expander through turning a screw in the center, with a special key we provide, gradual outward pressure is placed on the left and right halves of the upper jaw. This pressure causes an increased amount of bone to grow between the right and left halves of the jaw, ultimately resulting in an increased width.
Forsus Appliance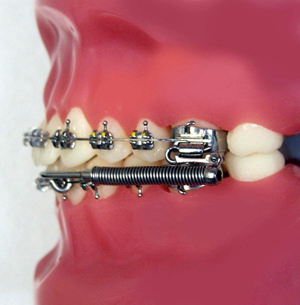 The Forsus appliance is used in order to help move the upper molars back while moving the lower arch forward. Composed of a spring coil rod, the appliance is used while a patient is currently wearing braces. It runs from the upper first molar band down to the lower archwire.
You may notice some discomfort initially, so we recommend a soft food diet for the first few days after the appliance is placed. Regular anti-inflammatory medication may help with any pain, if needed. It is important to keep the appliance clean; you may do this by carefully brushing the coil and other metal pieces of the appliance. Also, we recommend that patients not open their mouths very wide, as the appliance may come apart.
If your Forsus appliance breaks, please contact our office immediately to schedule a repair appointment.
Nance Arch Appliance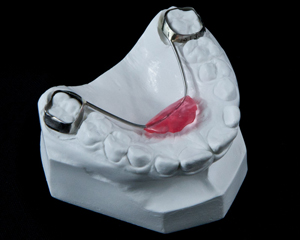 The Nance Appliance is used to prevent upper molars from rotating or moving forward after you've worn a headgear or any other appliance to move your molars back. Some patients wear the Nance Appliance while they are awaiting their bicuspids to grow into place.
This appliance is made of two bands that are cemented onto the first molars and a wire spans the roof of the mouth from one molar to the other. An acrylic pad or "button" covers the wire that touches the roof of your mouth directly behind your front teeth.
Patients should always brush around the bands daily. Do not eat sticky, chewy candy as it can loosen your appliance. If you have any problems with your Nance Appliance, please call our office immediately.
Habit Applicance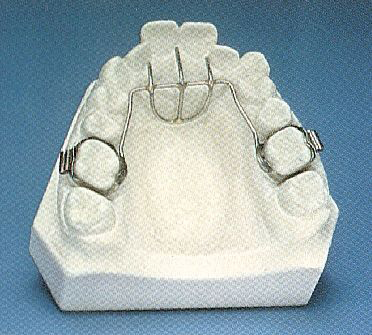 Sucking is a natural reflex that relaxes and comforts babies and toddlers. Children usually cease thumb sucking when the permanent front teeth are ready to erupt. Typically, children stop between the ages of 2 and 4 years. Thumb sucking that persists beyond the eruption of primary teeth can cause improper growth of the mouth and misalignment of the teeth. If you notice prolonged and/or vigorous thumb sucking behavior in your child, please talk to your dentist.
One solution to thumb sucking is an appliance called a "fixed palatal crib." This appliance is put on the child's upper teeth by an orthodontist. It's placed behind on the upper teeth on the roof of the mouth. The crib consists of semicircular stainless steel wires that are fastened to molars using steel bands. The stainless steel wires fit behind the child's upper front teeth, and they are barely visible. The crib usually stops the habit of thumb sucking within the first day of use.