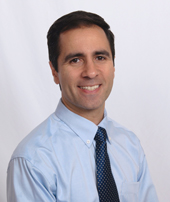 Dr. Andre C. Jham, DDS MS
Dr. Andre C. Jham was born in New York and grew up in Brazil, where he earned his Dental degree and practiced as a General Dentist. He received his D.D.S. degree from the University of Colorado at Denver and obtained his Certificate and Master's degree in Orthodontics at the University of Iowa. Dr. Jham is a member of the American Dental Association (ADA), MIdwestern Society of Orthodontists (MSO), as well as the American Association of Orthodontists (AAO). He is a Diplomate of the American Board of Orthodontics, a distinction only achieved by approximately half of all orthodontists in the country. He feels privileged to be a member of a profession that allows for long-term relationships with patients and that can potentially create life-changing and dramatic improvement of function and appearance. Dr. Jham enjoys spending time with his family and friends, attending live music events, playing soccer and traveling. He and his wife, Dr. Raquel M. Jham, have a beautiful son named Leonardo and are having a great time living in Bloomingdale, Illinois.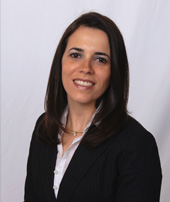 Dr. Raquel Martuchi Jham, DDS
Dr. Raquel Martuchi Jham, originally from Rio de Janeiro, Brazil, received her D.D.S. degree from the University of Colorado at Denver and obtained her Certificate in Pediatric Dentistry at the University of Iowa. She worked as a Pediatric Dentist in Austin,TX and decided to relocate to the Chicagoland area. Dr. Martuchi is a member of the American Dental Association (ADA) and the American Academy of Pediatric Dentistry (AAPD). She is also a Diplomate of the American Board of Pediatric Dentistry. She appreciates the combination of the technical and psychological aspects of pediatric dentistry and is passionate about infant oral health and educating parents about preventive measures to keep their children healthy. Dr. Martuchi, who is married to Dr. Andre C. Jham, enjoys spending time with her family and friends and speaks both Portuguese and Spanish.
Our Team
We know that our office is only as effective and as welcoming as the people who work in it, which is why we take pride in our friendly and well-trained team members! As a team, we are especially interested in making all our patients feel right at home! We put your child's needs first to achieve efficient and comprehensive treatment in a supportive, nurturing environment. We promise to speak candidly with you about possible treatments as well as any risks and associated costs of treatment, and how treatment can address your child's individual needs as a patient.
Our staff is especially trained to deal with children's temperaments, and we strive to provide energetic and fun-loving service to each of our dental and orthodontic patients. Our staff consists of team members with specialized training and multiple certifications, and each one of our team members has years of experience in treating patients with the highest level of care. We strive to stay abreast of the very latest in technology and advances by regularly attending continuing education courses and seminars.
To experience the difference that only a well-trained, professional and courteous team can deliver, schedule your appointment with our office today!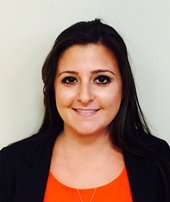 Office Manager/ Treatment Coordinator – Deala Fakhouri
Deala was born in Chicago and moved to Roselle at age 5. She has been working in the dental field for 12 years and is extremely passionate about dentistry. Beginning as a front desk receptionist she has progressed her career into office manager. Deala loves working closely with patients to make sure they have an enjoyable experience. When out of the office, Deala loves spending time with family, her dogs and cooking.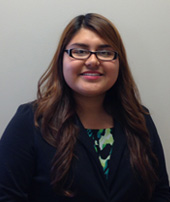 Front Desk Receptionist – Sarai Jannet Bahena
Sara was born in Chicago and lived there until she was 13 years old, and currently resides in the western suburbs. She feels privileged to assist patients needs and help them feel comfortable when visiting the office. When she is not in the office, she enjoys watching basketball and cheering for her favorite team the Bulls! She also loves swimming, traveling, watching movies and volunteering her time to give free bible classes. Sara's parents are originally from Mexico, and she is fluent in Spanish.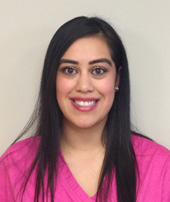 DENTAL ASSISTANT – GABRIELA VALDEZ
Gaby was born and raised in the western suburbs of Chicago, and currently lives in Addison with her husband and family. She's been working in the dental field since 2006 and loves it. She finds the most rewarding part of her job is meeting new people and educating them about their oral health, as well as exchanging stories. Gaby plans on finishing pursuing a career in dental hygiene. She loves spending time with her family and friends when not working.