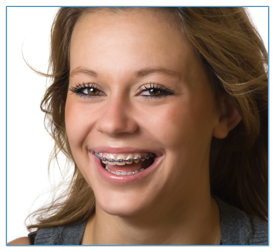 Dental Questions

Orthodontic Questions
Frequently Asked Dental Questions
1. At what age should my child have his/her first dental visit?
"First visit by first birthday" is the general rule. To prevent dental problems, your child should see a pediatric dentist when the first tooth appears, usually between 6 and 12 months of age, certainly no later than his/her first birthday.
2. Why should my child see a pediatric dentist instead of our regular family dentist?
Pediatric dentistry is a dental specialty that focuses on the oral health of young people. Following dental school, a pediatric dentist has two to three years additional specialty training in the unique needs of infants, children and adolescents, including those with special health needs.
3. What is baby bottle tooth decay and how can I prevent it?
Baby bottle tooth decay is a pattern of rapid decay associated with prolonged nursing. It happens when a child goes to sleep while breast-feeding and/or bottle-feeding. During sleep, the flow of saliva is reduced and the natural self-cleansing action of the mouth is diminished. Avoid nursing children to sleep or putting anything other than water in their bedtime bottle. Encourage your child to drink from a cup as they approach their first birthday. He/she should be weaned from the bottle at 12-14 months of age.
4. Can thumb sucking be harmful for my child's teeth?
Thumb and pacifier sucking habits that go on for a long period of time can create crowded, crooked teeth or bite problems. If they are still sucking their thumbs or fingers when the permanent teeth arrive, a mouth appliance may be recommended by your pediatric dentist. Most children stop these habits on their own.
5. What are dental sealants and how do they work?
Sealants are clear or shaded plastic applied to the teeth to help keep them cavity-free. Sealants fill in the grooved and pitted surfaces of the teeth, which are hard to clean, and shut out food particles that could get caught, causing cavities. Fast and comfortable to apply, sealants can effectively protect teeth for many years.
6. My child plays sports. How should I protect my child's teeth?
A mouth guard should be a top priority on your child's list of sports equipment. Athletic mouth protectors, or mouth guards, are made of soft plastic and fit comfortably to the shape of the upper teeth. They protect a child's teeth, lips, cheeks and gums from sports-related injuries. Any mouth guard works better than no mouth guard, but a custom-fitted mouth guard is your child's best protection against sports-related injuries.
7. How can I help my child through the teething stage?
Sore gums when teeth erupt are part of the normal eruption process. The discomfort is eased for some children by use of a teething biscuit, a piece of toast or a frozen teething ring. Your pharmacy should also have medications that can be rubbed on the gums to reduce the discomfort.
8. If my child gets a cavity in a baby tooth, should it still be filled?
Primary, or "baby," teeth are important for many reasons. Not only do they help children speak clearly and chew naturally, they also aid in forming a path that permanent teeth can follow when they are ready to erupt. Some of them are necessary until a child is 12 years old or longer. Pain, infection of the gums and jaws, impairment of general health and premature loss of teeth are just a few of the problems that can happen when baby teeth are neglected. Also, because tooth decay is really an infection and will spread, decay on baby teeth can cause decay on permanent teeth. Proper care of baby teeth is instrumental in enhancing the health of your child.
9. What causes tooth decay?
Four things are necessary for cavities to form — a tooth, bacteria, sugars or other carbohydrates and time. Dental plaque is a thin, sticky, colorless deposit of bacteria that constantly forms on everyone's teeth. When we eat, the sugars in food cause the bacteria in plaque to produce acids that attack the tooth enamel. With time and repeated acid attacks, the enamel breaks down and a cavity forms.
---
Frequently Asked Orthodontic Questions:
10. At what age should I schedule an appointment for an orthodontic screening?
The American Association of Orthodontists recommends an orthodontic screening at age 7. By this age, several permanent teeth in most children have erupted, allowing us to effectively evaluate their orthodontic condition.
11. Will teeth straighten out as they grow?
No, they will not. The space available for the front teeth does not increase as you grow. In most people, after the permanent molars erupt, the space available for the front teeth decreases with age.
12. What will I learn from the initial examination?
There are five essential questions that we will cover during the initial examination:
Is there an orthodontic problem, and if so, what is it?
What must be done to correct the problem?
Will any teeth need to be removed?
How long will the treatment take to complete?
How much will the treatment cost?
13. How long will it take to complete treatment?
Treatment time obviously depends on each patient's specific orthodontic problem. In general, treatment times range from 12 to 30 months. The "average" time frame a person is in braces is approximately 22 months.
14. How much will braces cost? Are financing options available? How does my insurance work?
It is impossible to give an exact cost for treatment until we have examined you. We will cover the exact cost and financial options during the initial examination. We have many financing options available to accommodate your needs, and we will review these with you. We will also review your insurance policy and help to maximize your benefit and file your claims.
15. Can I drop my child off for an appointment?
Yes. We understand your busy schedule, and we are happy to help you make the most of your time. On some occasions, we may request to speak with a parent when they return, so we ask that parents check in with their patient manager before dropping off their child.
16. Do braces hurt?
Generally, braces do not "hurt." After certain visits, teeth may be sore for a few days. In these situations, pain medications such as Advil or Tylenol will ease the discomfort. However, after most visits, patients do not feel any soreness at all! We often remind our patients, "It does not have to hurt to work!"
17. Can I return to school the day I receive my braces?
Yes. There is no reason to miss school because of an orthodontic appointment.
18. Are there foods I cannot eat while I have braces?
Yes. Once treatment begins, we will explain the complete instructions and provide a comprehensive list of foods to avoid. Some of those foods include: ice, hard candy, raw vegetables and all sticky foods (i.e. caramel and taffy). You can avoid most emergency appointments to repair broken or damaged braces by carefully following our instructions.
19. Can orthodontic correction occur while a child has baby teeth?Z
Yes. Some orthodontic problems are significant enough to require early intervention. However, if a patient is not yet ready for treatment, we will follow that patient's growth and development until the time is right for treatment to begin.
20. What is Phase One (early) treatment?
Phase One treatment, if necessary, is usually initiated on children between the ages of 7 and 10. Phase One treatment lasts about 12-21 months. The primary objective for Phase One treatment is to address significant problems to prevent them from becoming more severe and to improve self-esteem and self-image.
It is best to assume that your child will need full braces even after Phase One treatment. The period following Phase One treatment is called the "resting period," during which growth and tooth eruption are closely monitored. Throughout this period, parents and patients will be kept informed of future treatment recommendations.
21. Is it too late to have braces if I am already an adult?
A surprising percentage of our patients are adults. In fact, 25 percent of all orthodontic patients are adults. Health, happiness and self-esteem are vitally important to adults. No patient is "too old" to wear braces!
22. Why should I choose an orthodontic specialist?
Teeth, and sometimes entire facial structures, are permanently changed by orthodontic treatment. It is important that the treatment be appropriate and properly completed. Orthodontic specialists have extensive and specialized training that enables them to provide their patients with professional, personalized treatments.