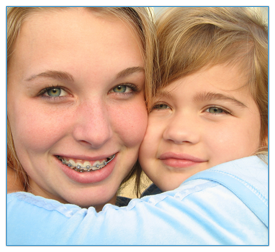 Dental Problems
Tooth Decay
Caries, or tooth decay, is a preventable disease. While caries might not endanger your life, they may negatively impact your quality of life.
When your teeth and gums are consistently exposed to large amounts of starches and sugars, acids may form that begin to eat away at tooth enamel. Carbohydrate-rich foods such as candy, cookies, soft drinks and even fruit juices leave deposits on your teeth. Those deposits bond with the bacteria that normally survive in your mouth and form plaque. The combination of deposits and plaque forms acids that can damage the mineral structure of teeth, with tooth decay resulting.
Sensitive Teeth
Your teeth expand and contract in reaction to changes in temperature. Hot and cold food and beverages can cause pain or irritation to people with sensitive teeth. Over time, tooth enamel can be worn down, gums may recede or teeth may develop microscopic cracks, exposing the interior of the tooth and irritating nerve endings. Just breathing cold air can be painful for those with extremely sensitive teeth.
Gum Disease
Gum, or periodontal, disease can cause inflammation, tooth loss and bone damage. Gum disease begins with a sticky film of bacteria called plaque. Gums in the early stage of disease, or gingivitis, can bleed easily and become red and swollen. As the disease progresses to periodontitis, teeth may fall out or need to be removed by a dentist. Gum disease is highly preventable and can usually be avoided by daily brushing and flossing. One indicator of gum disease is consistent bad breath or a bad taste in the mouth.
Canker Sores
Canker sores (aphthous ulcers) are small sores inside the mouth that often recur. Generally lasting one or two weeks, the duration of canker sores can be reduced by the use of antimicrobial mouthwashes or topical agents. The canker sore has a white or gray base surrounded by a red border.
---
Dental Emergencies
Tooth Ache
Begin by cleaning around the sore tooth meticulously. Using warm salt water, rinse the mouth to displace any food trapped between teeth. UNDER NO CIRCUMSTANCES should you use aspirin on the aching tooth or on the gum. In the event of facial swelling, apply a cold compress to the area. For temporary pain relief, acetaminophen is recommended. See a dentist as soon as possible.
Cut or Bitten Tongue, Lip or Cheek
Ice can be applied to any bruised areas. For bleeding, apply firm (but gentle) pressure with sterile gauze or a clean cloth. If the bleeding does not stop with pressure or continues after 15 minutes, go to an emergency room.
Broken Tooth
Rinse the area with warm water. Put a cold compress over the facial area of the injury. Recover any broken tooth fragments. Get immediate dental attention.
Knocked Out Permanent Tooth
Recover the tooth, making sure to hold it by the crown (top) and not the root end. Rinse, but do not clean or handle the tooth more than necessary. Reinsert the tooth in the socket and hold it in place using a clean piece of gauze or cloth. If the tooth cannot be reinserted, carry it in a cup containing milk or water. Because time is essential, see a dentist immediately.
Possible Broken Jaw
In the event of jaw injury, tie the mouth closed with a towel, tie or handkerchief. Go immediately to an emergency room.
Bleeding After a Baby Tooth Falls Out
Fold a piece of gauze and place it (tightly) over the bleeding area. Bite down on the gauze for 15 minutes; if bleeding continues, see a dentist.
Cold or Canker Sores
Over-the-counter medications will usually provide temporary relief. If sores persist, visit your dentist.
---
Orthodontic Problems
Underbite
An underbite is characterized by the lower jaw extending out, causing the lower front teeth to sit in front of the upper front teeth.
Spacing
Spacing problems may be caused by missing teeth, or they may only be a cosmetic or aesthetic issue.
Upper Front Teeth Protrusion
The appearance and function of your teeth are impacted by this type of bite. It is characterized by the upper teeth extending too far forward or the lower teeth not extending far enough forward.
Crowding
Crowding occurs when teeth have insufficient room to erupt from the gum. Crowding can often be corrected by expansion, and many times, tooth removal can be avoided.
Crossbite
The upper teeth sit inside the lower teeth, which may cause tooth stratification and misaligned jaw growth.
Overbite
The upper front teeth extend out over the lower front teeth, sometimes causing the lower front teeth to bite into the roof of the mouth.
Openbite
Proper chewing is impacted by this type of bite, in which the upper and lower front teeth do not overlap. Openbite may cause a number of unwanted habits, such as tongue thrusting.
Dental midlines not matched
This type of problem is caused when the back bite does not fit and match appropriately, which may negatively impact jaw and proper dental function.
---
Orthodontic Emergencies
Call our office as soon as possible if you break or loosen any of your appliances. Please do not come directly to the office – by calling us, you will allow us to create a time to see you. Even if you have a regular appointment scheduled, call us immediately to notify us if you need an appliance repaired.
Loose Brackets or Bands
Call our office immediately for advice if a bracket or wire is loosened. The bracket may need to be re-fitted as soon as possible. You may have a situation that requires cutting a wire or sliding a bracket off a wire at night or over the weekend. If you need to cut a wire in case of emergency, you may use fingernail clippers that have been washed and sterilized in alcohol. Please call our office the next business day, so that we may schedule an appointment for you.
Wire Irritations
Sometimes discomfort caused by a wire on your braces can be resolved by moving the wire away from the irritated area with a cotton swab or eraser. If the wire will not move, try covering the end of it with a small piece of cotton or a small amount of wax. If the wire is painful, you can cut it with nail clippers or scissors that have been washed and sterilized in alcohol. If you cannot resolve the wire irritation, call our office for an appointment.
Lost Separators
Most patients lose a separator during their treatment. Do not worry about losing a separator, but call our office to see if it needs to be replaced.
Discomfort with Orthodontic Treatment
During the first week after your braces are in place and routine adjustments are complete, you will likely feel some pain, soreness or discomfort. You may take acetaminophen or other non-aspirin pain relievers while you adjust to your new braces. A warm wash cloth or heating pad may reduce the soreness in your jaws.